Porcelain Veneers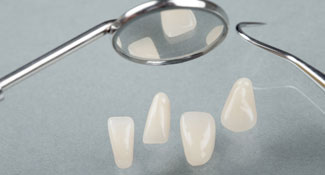 When patients hear the word "veneer" some of them think of the style of furniture that has a thin covering of ornate wood over a simple or unfinished material. This is not far from what we can achieve using porcelain veneers to transform smiles. Even smiles with numerous chips, cracks, stains, and gaps can be perfected flawlessly with custom crafted porcelain veneers. These thin sheaths of dental grade porcelain are affixed to the front facing surfaces of teeth to conceal imperfections, creating a flawless smile line. If you'd like to learn more about porcelain veneers or other cosmetic dentistry solutions, call our caring team to schedule an appointment at Lindsay Dental Group today.
How are Porcelain Veneers Placed?
Patients who decide to enhance their smiles with porcelain veneers should plan on visiting our team for at least two treatment appointments in addition to their initial consultation. During the first appointment, the skilled dentist will prepare the teeth. Veneers require us to remove a small amount of surface tooth enamel. This allows the veneer to lay flat within the natural smile line. Once the teeth are prepared, we capture bite impressions that our lab uses to craft custom veneers. Finally, we'll place a temporary veneer to protect teeth, and allow you to get used to the look and feel of your new smile. Once we've received the final product from our lab, you'll return for a shorter appointment. We'll remove the temporaries, and attach the custom porcelain veneers. If you're happy with the results, the process is all done. If not, we'll work with you to make adjustments, until you are completely confident in your smile.
Are Porcelain Veneers the Best Option for Me?
There is no such thing as one-size-fits-all when it comes to dentistry services. In fact, there's not even a one size fits most. Porcelain veneers are a versatile treatment option, but they may not be right for you. At Lindsay Dental Group, helping our patients find the best treatment options is always our top priority, so we'll take the time to discuss your goals and all the possible cosmetic dentistry solutions that can help you reach them. If you're not 100% confident in the results of your smile transformation, we'll do everything we can to deliver the results you're looking for.
In order to create a smile we know you'll love, we take time to address your concerns and answer your questions, at a consultation appointment before we ever begin treatment. During a cosmetic dentistry consultation, we'll help you determine first, whether or not veneers are your best option. Then, we also need to consider whether to treat the top, bottom, or both arches of teeth, and decide how many of your teeth are visible when you smile.