Spring, TX Cosmetic Dentist Creating Flawless Smiles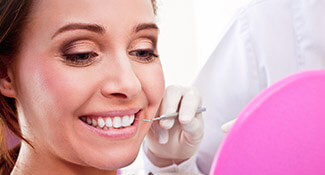 A confident smile says a lot about who you are, but for our patients who are unhappy with the appearance of their teeth, confidence is not the first word that comes to mind when they think of smiling. At Lindsay Dental Group, we're dedicated to helping patients feel comfortable with every aspect of their smiles. If you cover your mouth when you talk or smile with your mouth closed, you don't have to accept this as the norm. Contact our Spring, TX dental team to find out more or schedule your cosmetic dentistry consultation today.
Teeth Whitening
It's no secret that teeth whitening is one of the most popular cosmetic dental services available. Patients need only walk down the oral hygiene aisle of the nearest pharmacy to find proof in the countless whitening toothpastes, mouthwashes, strips, and gels lining the shelves and promising patients dramatic results. However, these products are rarely able to deliver the changes they promise. Professional teeth whitening products from our skilled dental team provide more predictable results. We use both in-office and take-home professional whitening kits to brighten smiles. In-office whitening brightens smiles up to ten shades in about an hour, and take-home whitening kits offer the same results over the course of about two weeks of daily use.
Tooth-Colored Fillings
In the past, our team relied on silver-colored amalgam fillings to repair minor damage caused by tooth decay as well as chips and cracks. While these fillings are crafted from high quality, durable materials, they have a number of disadvantages. Possibly the most noticeable are the unappealing cosmetic changes the darkly colored fillings make to pearly white smiles, but there are also a number of oral health concerns associated with amalgam fillings. Those patients who experience allergies or sensitivities to metal often experience discomfort and have to replace the fillings with restorations crafted from other materials. Additionally, amalgam expands and contracts with changes in temperature which could lead to further damage to the healthy dental structures. Tooth-colored, composite resin fillings blend seamlessly into the natural smile line, and are an excellent restoration option for patients with sensitivities to metal. Composite resin is directly applied to damaged teeth which means less natural structure is removed in preparation, and because the composite does not expand and contract with temperature changes, the risk for further decay or damage is diminished. Composite resin fillings are easily completed in a single visit.
All-Ceramic Restorations
All-ceramic crowns, inlays, onlays, and bridges, are some of the many dental solutions we offer that blur the line between cosmetic and restorative dentistry offering the best of both worlds. Dental restorations can be crafted from a number of metals including gold and silver, but these options have fallen out of favor as they dramatically affect the appearance of patients' smiles. A more cosmetic solution, porcelain bonded to metal provides more subtle appearance, but over time, the tooth-colored porcelain is worn away revealing the darkly colored metal below. All-ceramic restorations are far superior cosmetically maintaining their natural coloring over time. Additionally, as they are crafted from a single block of dental-grade ceramic, they are less likely to crack, fracture, or breakaway over time. The placement process requires two appointments. During the first appointment, we prepare teeth and place a temporary restoration, and once the custom solution is completed, patients return to exchange the temporary for the permanent crown, inlay, onlay, or bridge.