Dental Implant Tooth Replacements in Spring, TX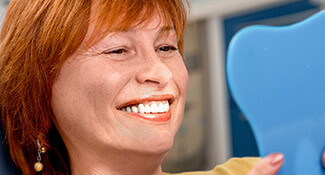 Traditional tooth replacement options restore the visible portions of patients' smiles, but they do not replace the root systems, the underlying supportive structure. Dental implant supported tooth replacement offers a more natural solution as it replaces the entire tooth, including the root. Without tooth roots, jawbone density diminishes and gum tissue volume decreases slowly allowing the bite to cave in. Overtime, this changes the shape of patients' faces and can lead to further tooth loss and orthodontic issues. While dental implants aren't the right solution for every patient, they do offer superior comfort and stability and are versatile enough to replace any number of missing teeth from a single tooth to a full arch. At Lindsay Dental Group in Spring, TX, we're happy to offer dental implant supported tooth replacement. To find out more, contact our team to schedule a dental implant consultation today.
Implant Placement
The first step of the dental implant process is the placement of implant posts below the gum line. This is a surgical procedure, but those patients healthy enough for minor medical treatments are typically healthy enough to undergo implant placement. A small opening is made in the gums, and an implant post is positioned in the jaw to mimic the lost root structure. Overtime, the supportive alveolar bone regrows around the implant post fusing with the titanium and holding the implant securely in position. This process, known as osseointegration, may take anywhere from one to six months depending on a number of factors including patients' overall health, number of implants placed, and the location of the implant site. Once the implant has fused with the jawbone, we are able to attach a dental restoration that looks and feels like a natural tooth.
Implant Crowns
For single tooth implant supported restorations, we use a single dental implant placed into the jaw. Once the titanium post fuses with the jawbone, we permanently attach a dental crown to the implant post. These crowns are made from the same high-quality materials we use for our other dental crown restorations, but rather than being cemented into position to preserve natural dental structure, implant supported crowns are permanently connected to a dental implant.
Implant Dentures
For those patients with more extensive tooth loss, we offer a variety of implant supported prosthetics to restore any number of missing teeth for a flawless smile. For those with more extensive tooth loss, we may recommend any of the following implant supported dental prosthetics:
Partial denture – like removable partial dentures, the implant supported variety fills in gaps in patients' smiles snapping into position like a puzzle piece, but rather than attaching to healthy dental structure, these prosthetics are connected to implant posts strategically placed to offer ideal support. Our team is able to craft both removable and fixed varieties depending on patient preference.
Full denture – implant supported dentures look much like their traditional counterparts. In fact, we're often able to repurpose a patient's existing denture to be fitted to implants. We offer both fixed and removable implant dentures for optimal patient comfort.
Crown and bridge – possibly the most natural looking result for extensive tooth loss is restoration using a series of implant supported fixed bridges. Because there is no base between the prosthetic teeth and the gums, implant supported crown and bridge looks and feels more like natural teeth.