Meet Our Friendly Spring, TX Dental Team
Micha Butler, Registered Dental Hygienist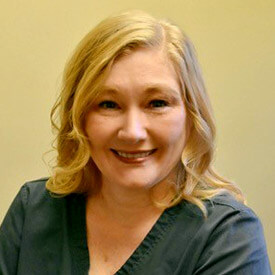 Micha has more than 30 years of experience in the field of dentistry, and joined Lindsay Dental Group in 1988. She attended the University of Louisiana in Monroe, and studied dental hygiene at Northeast Louisiana University earning a Bachelor of Science in dental hygiene. Micha looks forward to coming to the office every day because of the patients she's had the opportunity to get to know over the years, and genuinely cares about helping patients achieve their dental health goals.
A native of West Monroe, LA, Micha is happily married, and she and her husband have two adult children. When she has spare time, Micha loves attending bible study, gardening, and canning. She even teaches classes on canning jams, jellies, pickles, and salsa.
Sofia Chan, Registered Dental Hygienist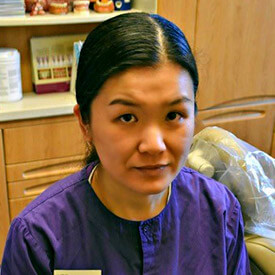 Sofia worked the first 13 years of her dental career in an orthodontist's office, eight years as a registered dental assistant and five years as a hygienist. She joined our team in 2014, and has worked hard to establish trusting relationships with patients. A native of Daly City, CA, Sofia attended the University of California at Davis, and studied dental hygiene at Carrington College in Sacrament, CA. In addition to being both a registered dental assistant and hygienist, Sofia is certified in soft tissue periodontal laser applications.
Sofia and her husband moved to Conroe, TX in July of 2014, and they have four kittens and two dogs. In her free time, Sofia enjoys photography, snorkeling, travelling, staying fit at the gym, reading, creating healthy recipes, going to the beach, and riding her motorcycle.
Amanda Gonzales, Registered Dental Assistant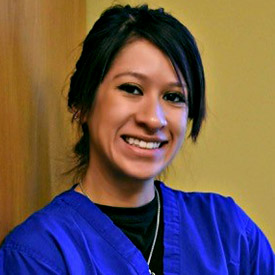 Amanda spends her hours at work getting to know our patients on a personal level and building lifelong friendships. Since joining our practice in 2010, Amanda has provided outstanding care for her patients, and dedicated herself to letting each person who visits our practice know that their smile matters. Amanda has certifications in nitrous oxide and CPR. A Houston native, Amanda loves caring for patients in her hometown. She's lucky to have her entire family in the Houston area, and is blessed with one loving daughter, Isabella. Outside of work, Amanda stays active by cycling, jogging with her pup and playing in the park with her daughter. She considers herself to be a kid at heart. She loves roller coasters, water parks, watching cartoons, and playing games with her daughter.
Linda Wollebak, Front Desk Manager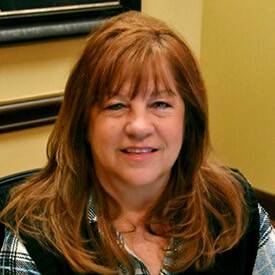 Linda is dedicated to serving her coworkers and patients. She has 35 years of dental experience, and more than 20 years with our practice. Linda completed 2 years of nursing school, and holds certifications in radiation, orthodontic assistance, patient relations, and CPR. She was born in Astoria, Oregon but was raised in Austin, TX. She has 2 grown children and 6 grandchildren aged 1 to 9 years old. When she's not busy spending time with her growing family, she loves to ride and raise quarter horses. She also enjoys sewing, working out, being in the outdoors, and driving her one ton truck.
Sara Lindsay, Front Desk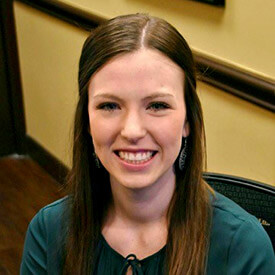 Sara joined Lindsay Dental Group in 2014, and had two years of experience in dentistry before joining our team. Sara is passionate about helping patients, building relationships, and working hard to help patients get the care they need within their budget and schedule. Sara is CPR certified, and has assisted dentists on mission trips to Haiti.
Sara is happily married to Dr. Chase Lindsay and they have a beautiful daughter named Avery. Sara grew up in East Texas, but is proud to make Houston her home. In her free time, Sara loves spending time with family and friends, cooking new dishes with her husband, and crafting. She also enjoys activities outdoors, such as going to the lake and camping.
Judy Wakefield, Insurance Manager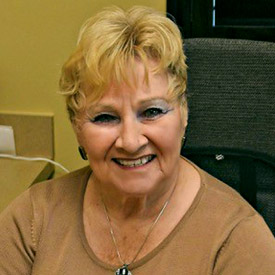 Judy is truly the heart of the team. She brings 56 years of experience to our practice, and has been with us for almost 30 years. She loves building relationships with patients and her coworkers. She attended American Dental Assistant's School, regularly completes continuing education from the American Dental Association, and holds x-ray tech certification from the University of Illinois. Judy is originally from Bloomington-Normal, IL and has all but forgotten her northern roots. She has 3 grown children, Phillip, Eliot, and Nancy, and 2 beautiful grandbabies, Sean and Erika. Once an avid country western dancer, Judy still loves music. She also enjoys decorating, sewing, and visiting the bay with her daughter and husband, Greg.
Caren Lindsay, Accounting, Front Desk Support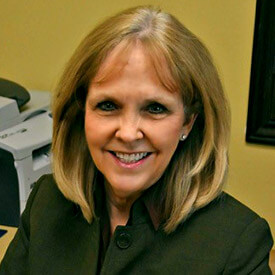 Caren has played many roles throughout the growth and success of Lindsay Dental Group. Since 1981, she has invested countless time and energy facilitating things around the office. In addition to handling the businesses accounting, Caren has greeted patients with a smile and offered support for the front desk staff. Caren studied at Abilene Christian University where she earned a degree in accounting with a minor in Bible study. She is also proficient in sign language.
Outside of the office, Caren is happily married to Dr. Michael Lindsay, and they have 4 children, and 6 grandchildren. She enjoys attending bible study, reading, water sports, and playing with her grandchildren.
More to Explore